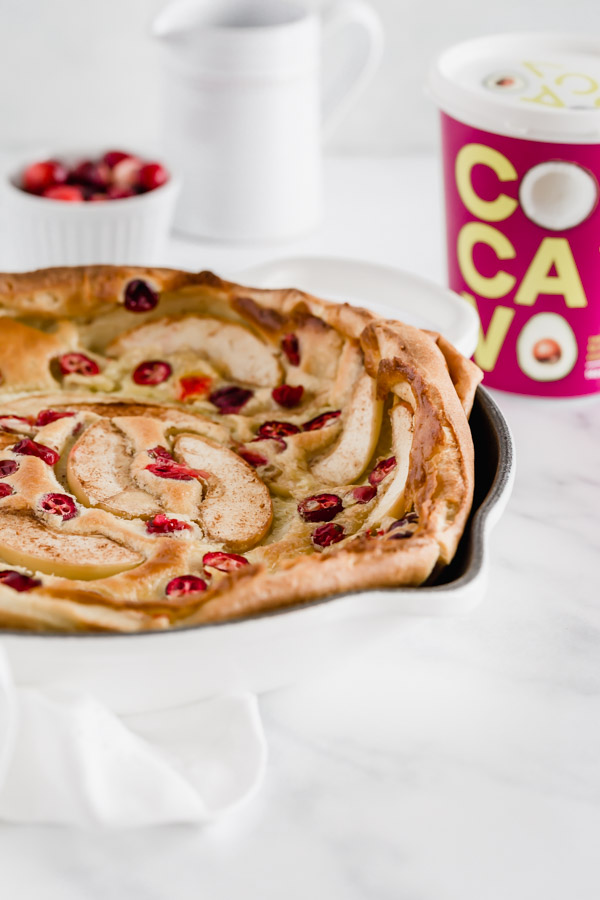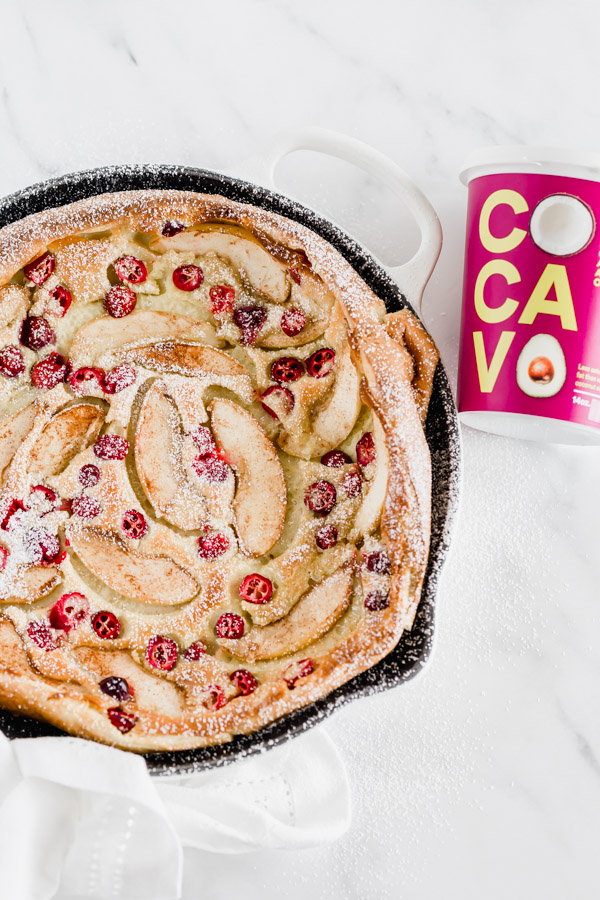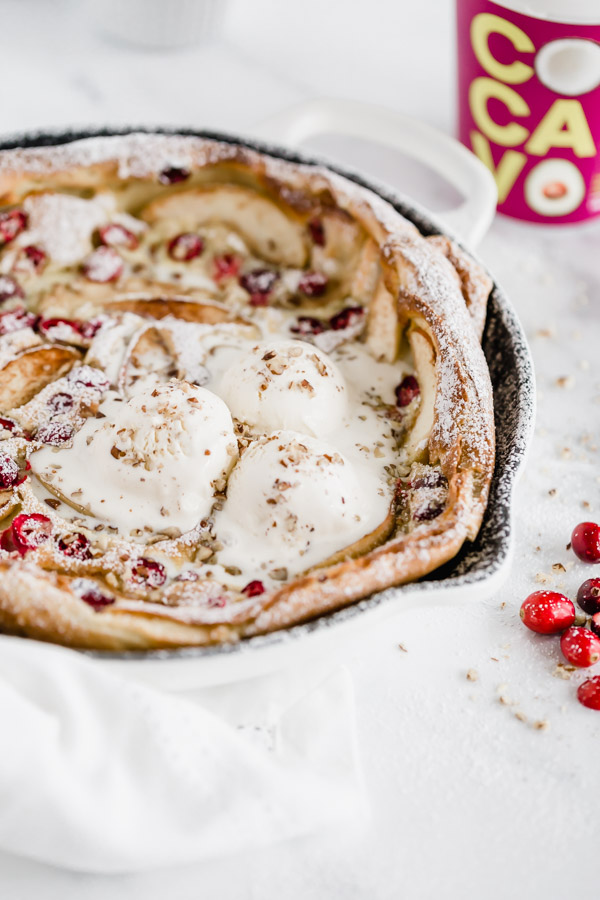 Breakfast never looked better than this golden brown dutch-baby made with Cocavo Original avocado and coconut oil blend. This is one breakfast favorite you can feel good about. This one-skillet wonder is made in thirty minutes or less with simple ingredients. Top with ice cream for a delicious dessert any day of the week.
It's no secret that a good dutch-baby is a favourite any day of the week, and this one will be on repeat all holiday season long, starting with Thanksgiving morning! It's such a festive dish with the fresh cranberries and cinnamon apple add-ins, and is a real show-stopper fresh from the oven.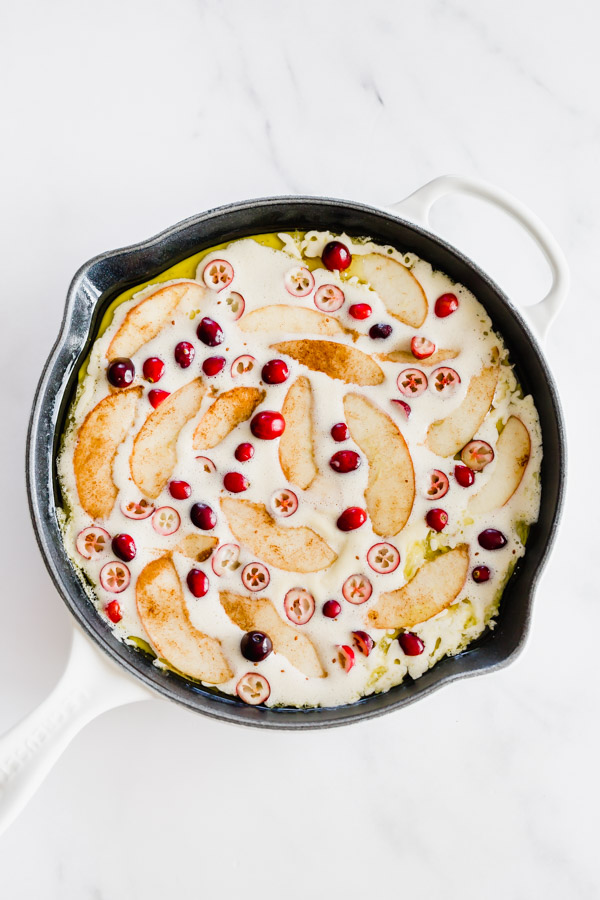 " On repeat all holiday season long, starting with Thanksgiving morning! "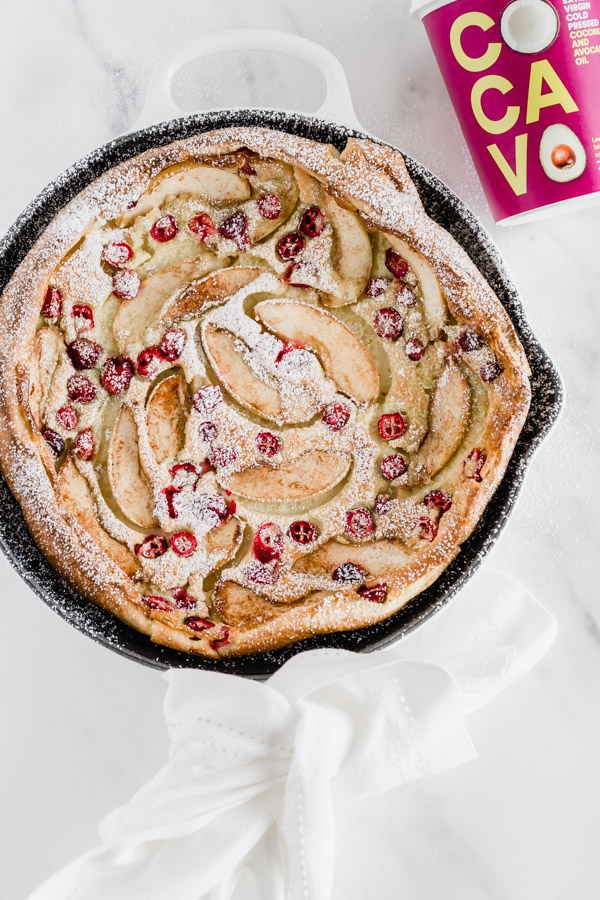 Cocavo is a coconut and avocado oil blend that is not only made from all-natural ingredients, but it has a neutral flavor and is a delicious substitute for regular butter and oils. 
Available at your local Walmart so you can pick up a tub while you're shopping for all things holiday. 
CRANBERRY & APPLE DUTCH-BABY
5 eggs, room temperature
3 TBSP Cocavo Original Avocado & Coconut Oil Blend
¾ cup whole milk, room temperature
¾ cups all-purpose flour
2 teaspoons vanilla
2 tablespoons granulated sugar
1 pinch salt
2 Gala or Honey Crisp apples, quartered and thinly sliced
½ cup fresh cranberries, sliced in half
1 tsp cinnamon
Confectioner's sugar for dusting (optional)
Instructions
Preheat oven to 425 degrees
Add all dry and wet ingredients, except the Cocavo oil, to a blender
Blend on high speed until smooth
Set aside
Thinly slice apples and place in a mixing bowl
Add 1 tsp cinnamon and toss to coat
Slice cranberries in half and set aside with apples
Place a 10-inch skillet over medium-high heat
Pour 3 TBSP of Cocavo Original into pan and heat through
Once the oil is hot, pour the batter into the hot skillet
Place apple slices on top of the batter, spreading them out so they are not overlapping
Add cranberries to skillet, spreading throughout the batter
Transfer skillet carefully to the preheated oven
Bake 20-25 minutes or until golden brown and puffy
Remove from oven and dust with confectioners sugar if desired or top with ice cream and toasted pecans
Serve immediately
Note:
This dutch baby can be made with other fruits such as pears, bananas, or raspberries. Store any leftovers tightly covered in the refrigerator.