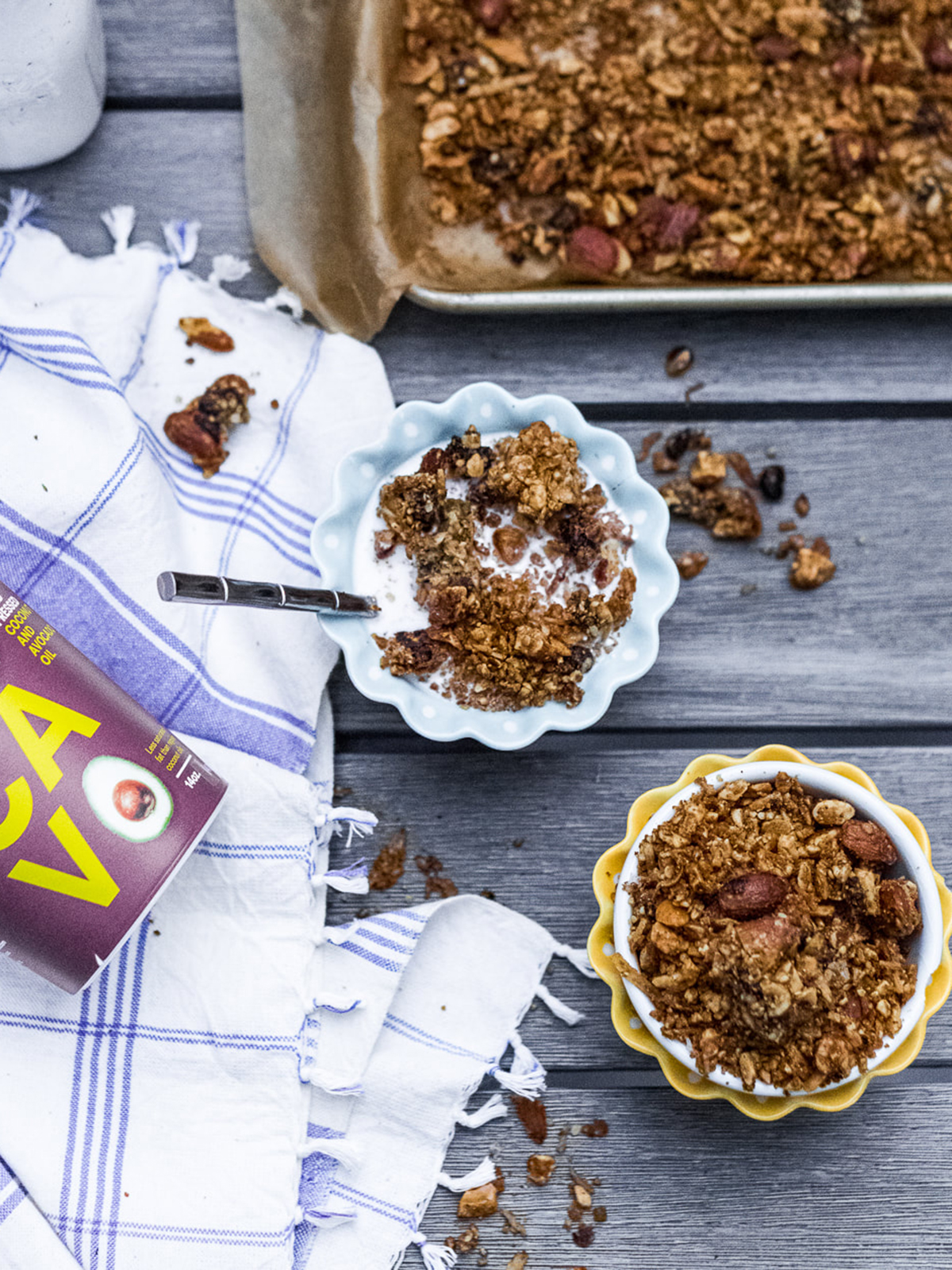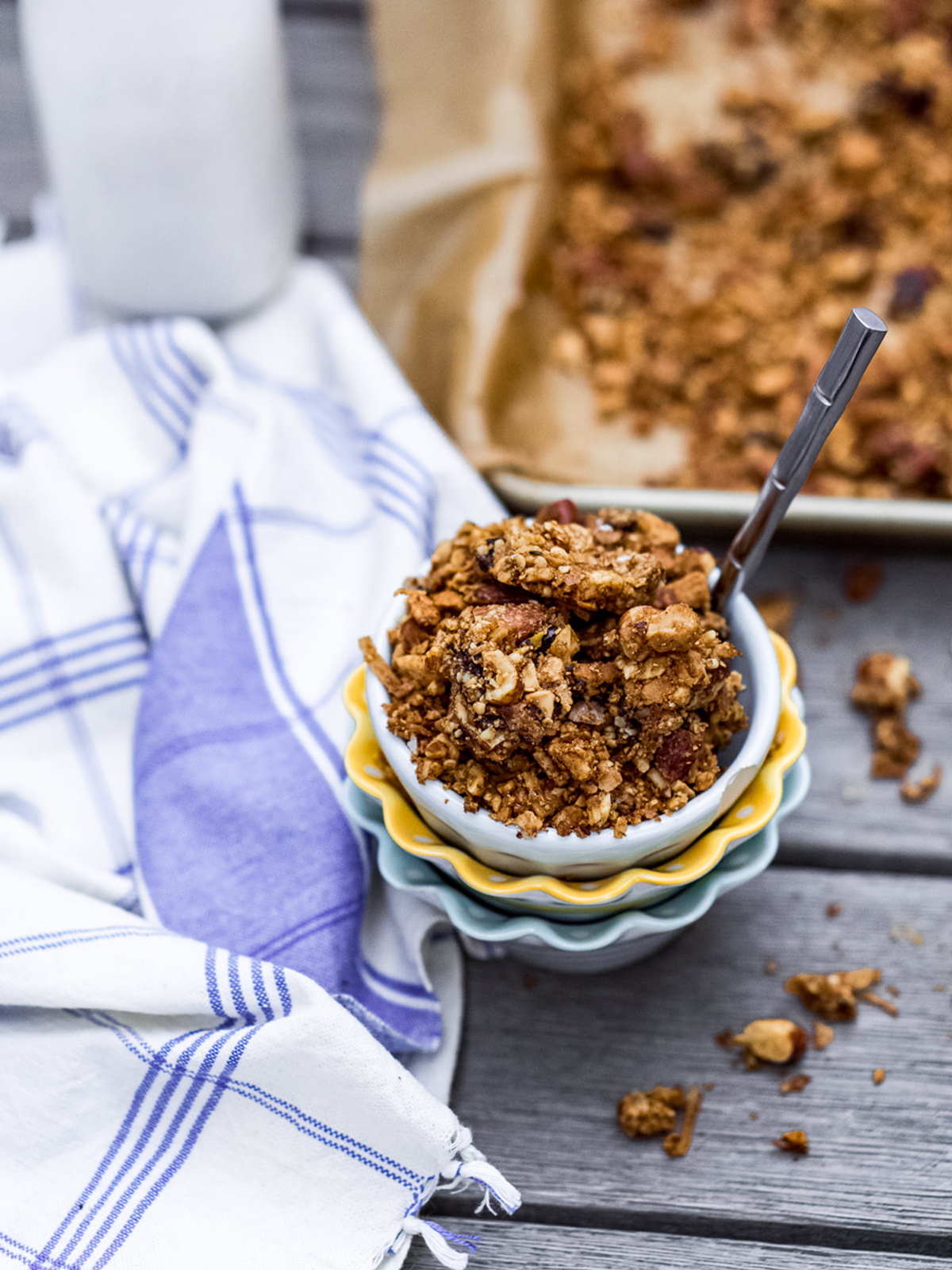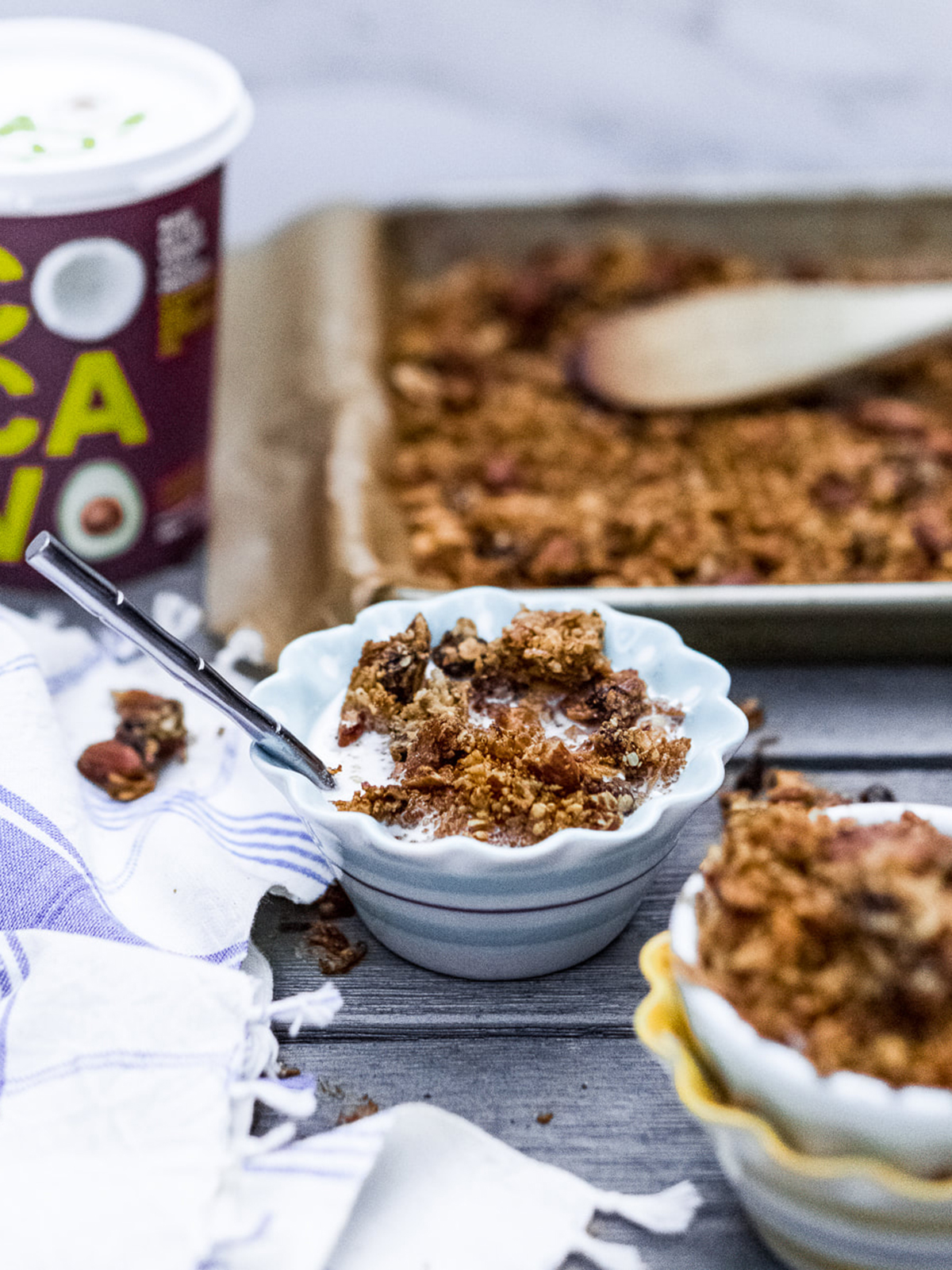 Grain-free granola that's truly healthy and would pair perfectly with almond milk for your cereal cravings, could be used as a topping on smoothie bowls or yogurt, and is delicious enough to eat by the handful! 
Instead of using oats in the recipe (like most traditional granolas), we used a whole range of scrummy nuts. This means the recipe is completely gluten-free and has a much higher content of protein than oat-based recipes. Adding a couple of chocolate chips into the mix makes it taste like chocolate chip cookie granola. So good! Plus a sprinkle of flaky sea salt gives it that salty-sweet flavour that just brings everything to the next level.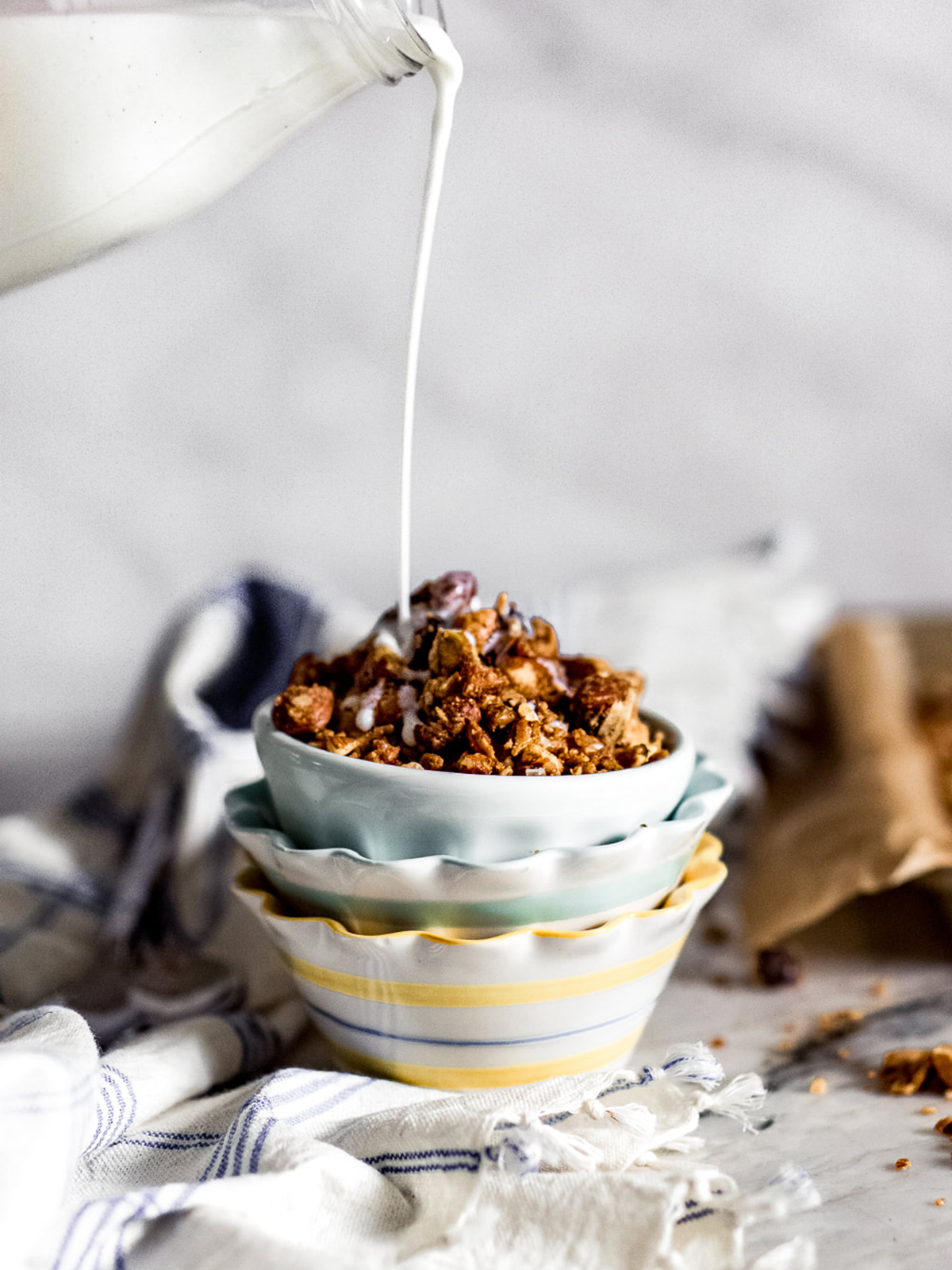 "Delicious enough to eat by the handful! "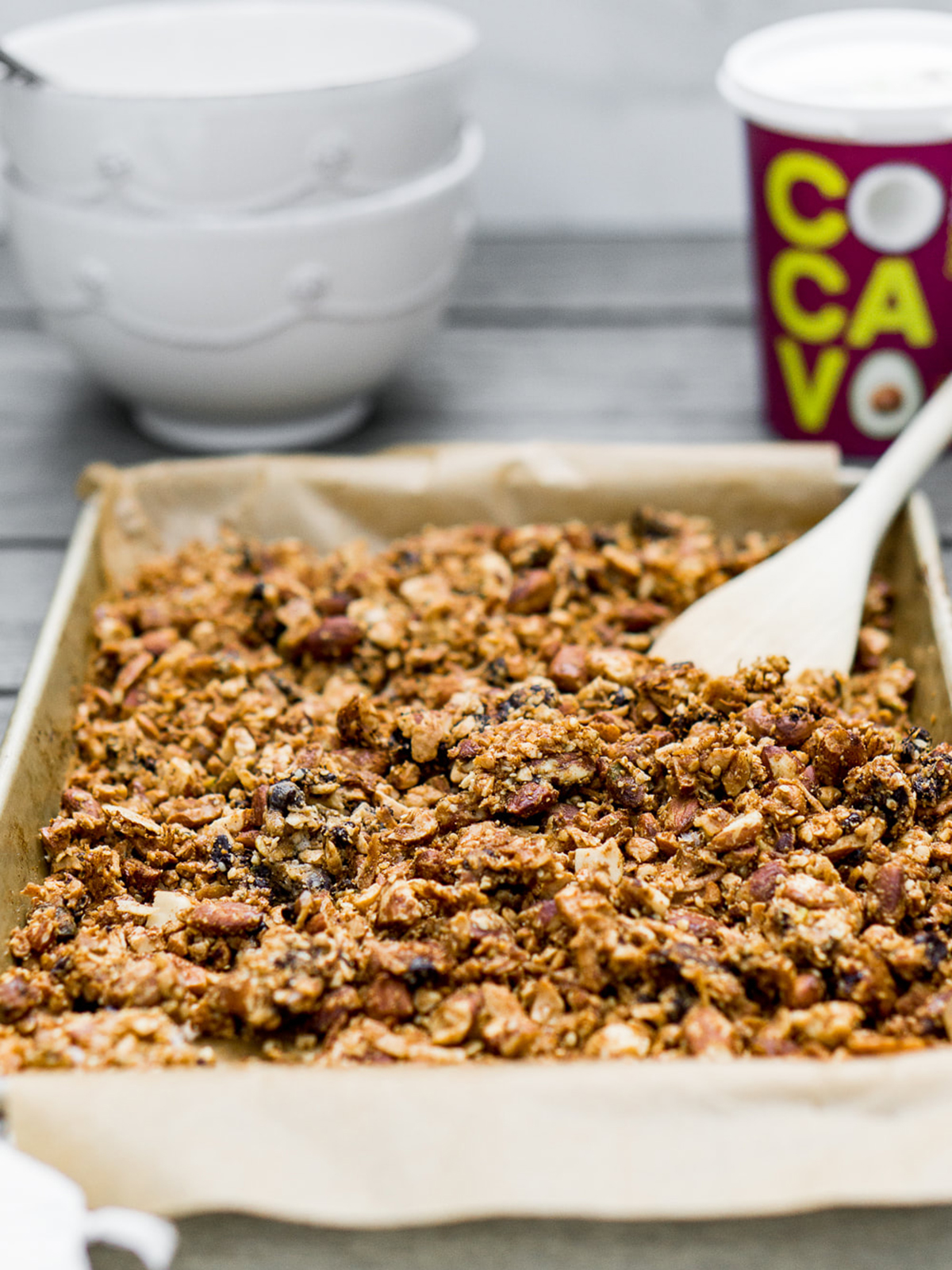 CHOCOLATE CHIP GRAIN-FREE GRANOLA
(Yields 2 cups of granola)
2/3 cup cashews, roughly chopped
2/3 cup almonds, roughly chopped
1/3 cup pistachios, shelled and roughly chopped
2 tbsp hemp seeds
1/2 cup shredded coconut
2 tbsp chocolate chips (I used this brand which is stevia-sweetened to keep it lower in sugar)
1/4 cup natural almond butter
2 tbsp pure maple syrup
​2 tbsp Cocavo original coconut and avocado oil blend, melted
1 tbsp vanilla extract
Sprinkle of flaky sea salt
1. Preheat oven to 350ºF (180ºC). Line a sheet pan with parchment paper.
2. In a large bowl, whisk together the almond butter, maple syrup, melted coconut/avocado oil, and vanilla extract.
3. Chop the nuts or pulse them through a food processor to roughly chop.
4. Add all dry ingredients to the bowl with the almond butter mixture. Stir well to combine and make sure everything is evenly coated.
5. Pour onto the parchment paper and pat down to pack the mixture together. Sprinkle with flaky sea salt.
6. Bake in the oven for 15 minutes, then gently move the mixture around with a spatula, careful not to break up the clusters too much, and bake for an additional 10 minutes or until golden.
7. Allow the granola to cool, then break up with a spatula for delicious clusters.
8. Store granola at room temperature or in the fridge.