AvoSpa Hemp Balm is a unique balm that contains 15% Hemp Seed Oil which is known to help reduce swelling and pain associated with bruising, sore muscles, joint pain, neck/back strain and a variety of skin conditions. Hemp oil is perfect for most skin types as it can moisturise without clogging your pores. It can help to balance out oily skin, hydrating it and regulating the skin's oil production.
Our Hemp Seed Oil is carried in Extra Virgin Avocado Oil, Extra Virgin Coconut Oil & Natural Beeswax to produce a balm containing 15% Hemp Seed Oil.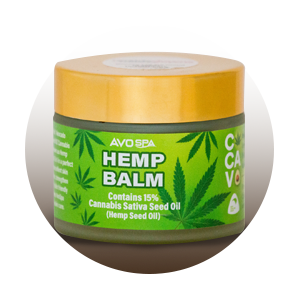 [wps_products_buy_button product_id="4118530097254"]
Read More
Skincare benefits
Hemp Seed oil is widly incorporated into many skincare products and cosmeceuticals. In fact, its become quite a trendy ingredient. Hemp Seed oil is not just trendy, but it can offer many benefits for your skin.
Moisturising
This is the biggest and most well-verified benefit that Hemp Seed oil can deliver. Hemp Seed oil is emollient which means it has the quality of softening or soothing the skin.
Antioxidant Qualifies 
Hemp Seed oil is very in antioxidants like fatty acids (GLA), and vitamins A, C and E. Antioxidant skincare products may help give your skin some protection against premature aging.
Anti-Inflammatory  
Hemp Seed oil contains components that have anti-inflammatory properties. Current research shows that it may also help relieve skin inflammation. There is more research being conducted that's showing how Hemp Seed oil works on the skin.
Anti-Bacterial Qualities
Studies suggest that Hemp Seed oil has many anti-bacterial qualities.Hemp Seed oil is regarded to possess antibacterial activity against a wide range of pathogenic bacteria. Hemp Seed oil, CBD oil and other cannabinoids are being studied as possible treatments for a vast array of skin conditions like acne, eczema, psoriasis, rosacea, and skin cancer.
Please read our Disclaimer statement on our website.
Contacting Us
If you have any questions regarding Cocavo, contact us using the information below:
Email: info@cocavo.com
Phone: ​+64 9 9719482
Postal Address
Cocavo Limited
PO Box 11010 Whangarei Mail Centre, Whangarei, 0110
New Zealand
Factory & Shop - 29 Port Rd, Whangarei
Physical Address
Cocavo 
29 Port Rd, Whangarei, 0110
New Zealand