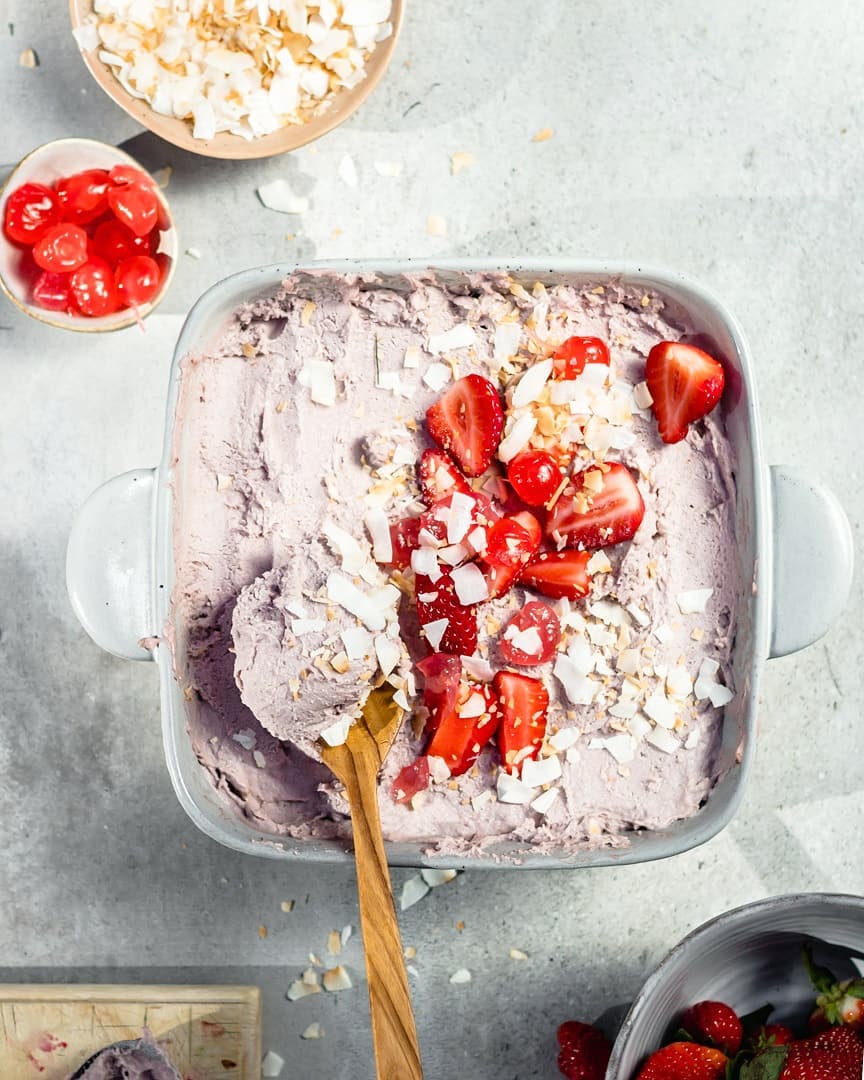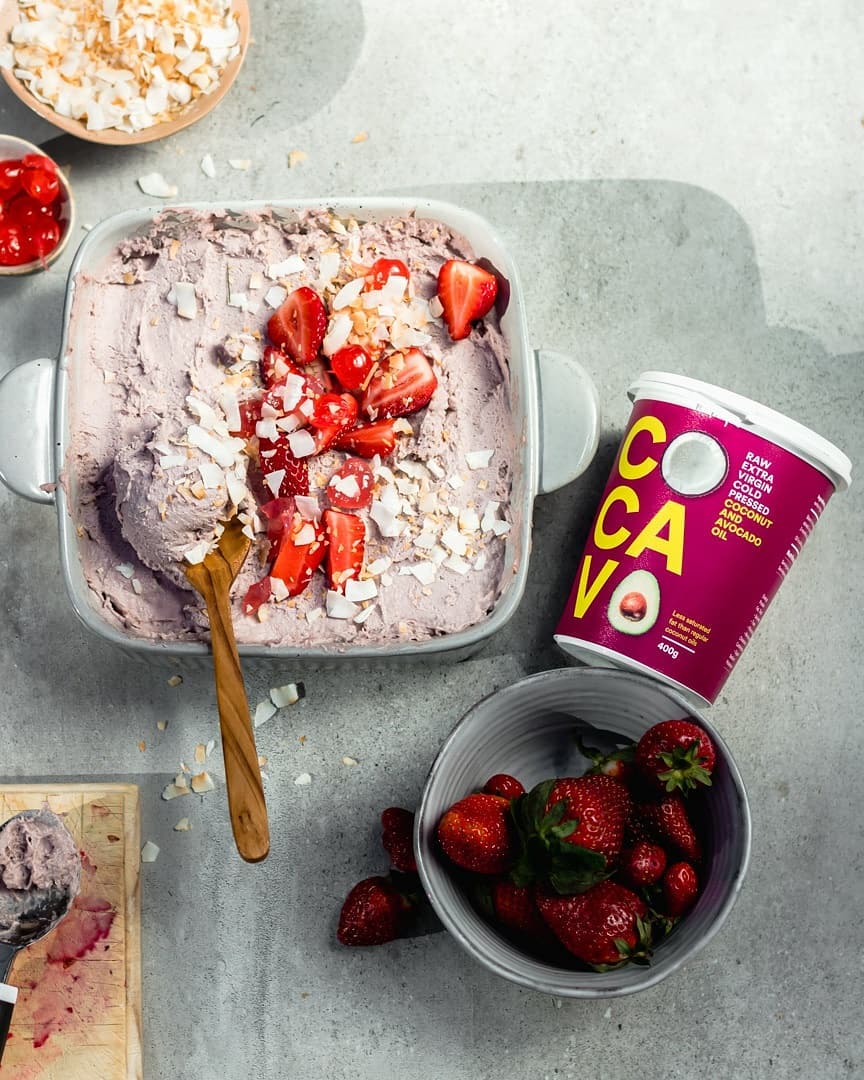 It's Christmas day in less than a week, can you believe it? This Christmas season has just flown by!
If you're stuck on a Christmas dessert, here's a deliciously summery Strawberry White Christmas Ice Cream to suit the varying dietary needs likely at your Christmas table!
"Christmas season has just flown by! "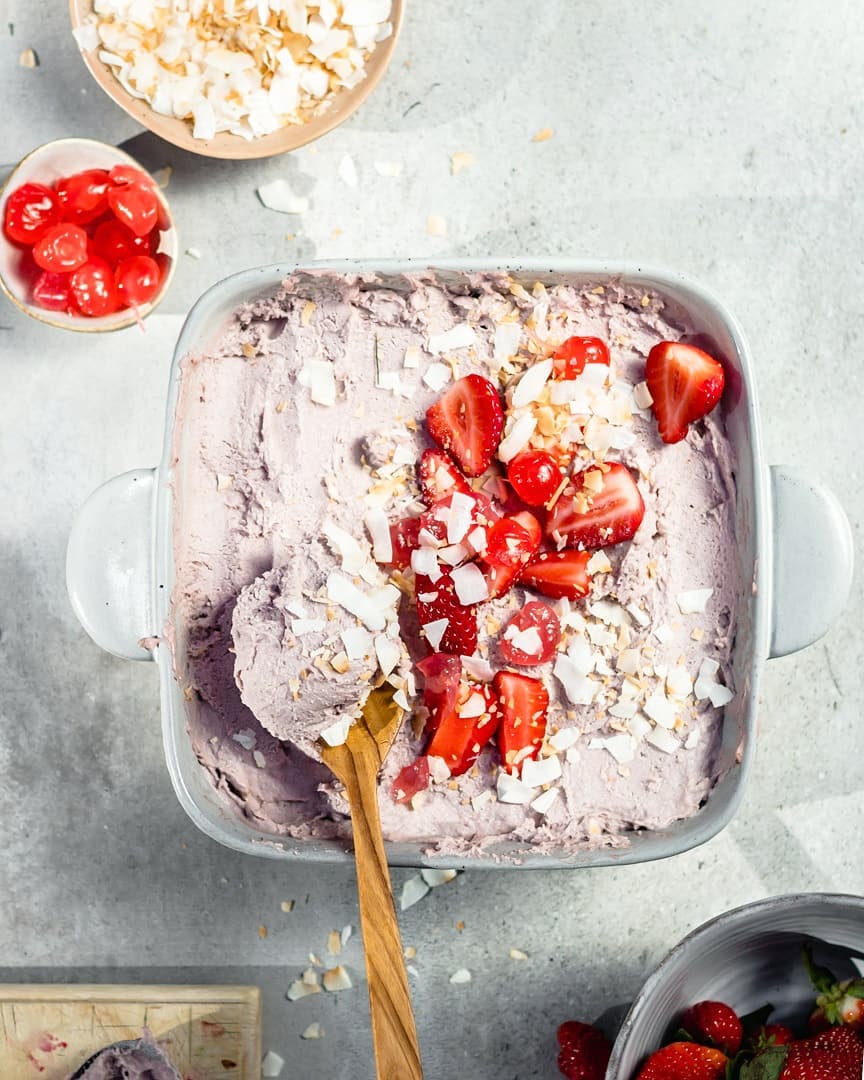 Being made with Cocavo Original helps to make it super thick and creamy, and adds a source of healthy fats. You can use any berry here – they'll all work! And of course, you can make this recipe outside of the Christmas holiday season too!
This recipe uses gelatine to help with the creamy texture (as it's no-churn), however, to make it vegan, just use half as much agar-agar. Easy!
STRAWBERRY WHITE CHRISTMAS ICE CREAM
(DF, GF, RSF, vegan option)
•250g strawberries, plus extra, chopped, to stir through
•1 can coconut milk
•1 cup cashews, soaked overnight
•1/3 cup Cocavo Original
•1/4 cup liquid sweetener of choice
•2 tsp cornstarch
•1 tsp strawberry extract (or vanilla)
•pinch salt
•1 tbsp gelatine (or 1/2 tbsp agar-agar)
•1/2 cup toasted coconut chips
•1/2 cup white chocolate, chopped (dairy-free if needed)
•1/3 cup glace cherries, roughly chopped
1. In a blender, blend strawberries, coconut milk, cashews, Cocavo, sweetener, cornstarch, strawberry extract, and salt, until smooth. Transfer to a large saucepan.
2. Sprinkle over gelatine and allow to bloom for 10 minutes. Whisk to combine, then turn the heat on to medium. Cook, stirring occasionally, for 10-15 minutes or until frothy and beginning to steam. Remove from heat.
3. Pour into a large container. Freeze for 6 hours, blending with a stick blender every hour to combine – this will ensure it stays creamy. Remove from freezer 15 minutes prior to serving, to allow to soften.
4.Sprinkle over extra chopped strawberries, coconut, white chocolate, and glace cherries and stir through.