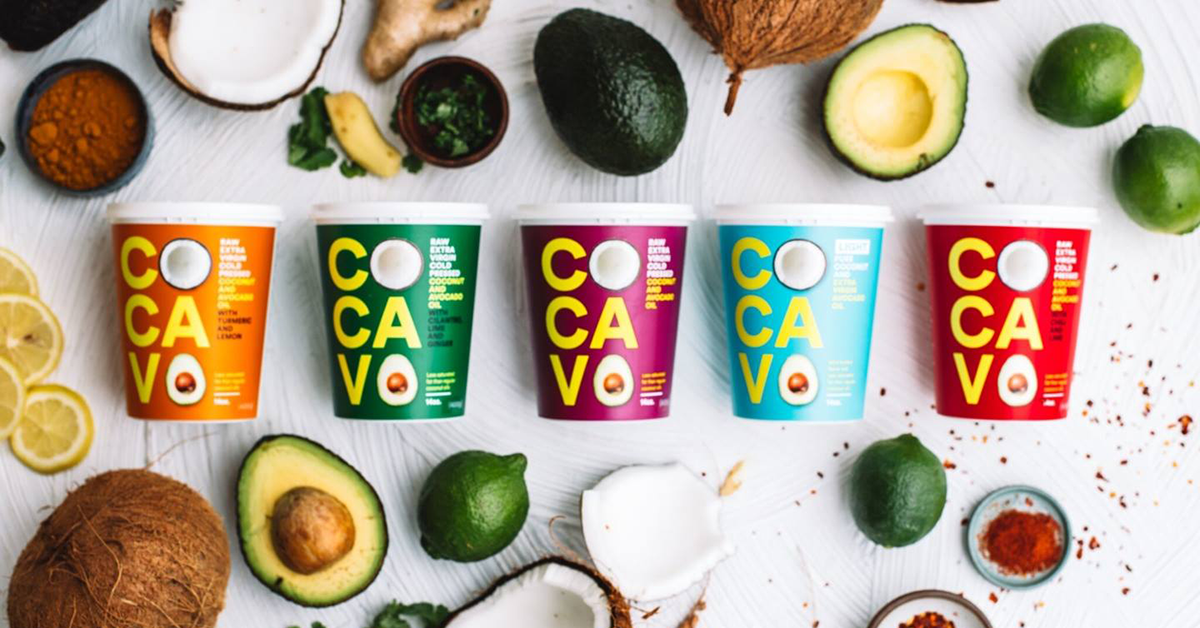 Buying our hugely diverse range of Cocavo superfood oil products online has never been easier!
We've hooked on to a new system for our online shopping cart which is 100% more user-friendly, intuitive, and seamless right from selecting which product you want, to payment.
Once we get the order we pack it up all nice and safe for you and send it straight to your door.
Now talk about easy shopping!
You don't even need to leave the house.
Plus, with our wide range of other 'Related Products,' you can get anything from coconut butterscotch sauce (vegan) to pea protein delivered in the same package too.
We're here for you, and we want to make your shopping experience the best it can be.
Buying Cocavo Products and Related Products has never been easier
We are ecstatic to provide such a seamless system to all our online customers.
Buying Cocavo Oils
Our Cocavo Variants are a mixture of Coconut and Avocado oils blended perfectly to bring you possibly the healthiest oil on the market today. We have five flavour variants which include Cocavo Original, Cocavo Light, Cocavo Chilli and Lime, Cocavo Coriander, Ginger and Lime, and Cocavo Turmeric and Lemon.
Boasting a range of extra virgin coconut oil products, as well as pure and unrefined coconut oil products, we have a wide range of coconut oils to suit every budget.
Check out our range of extra virgin avocado oil products, including turmeric and lemon, chili-infused, wasabi-infused, and our hugely diverse hot-wok oil too.
Buying Our Other Products
Our hemp range includes unrefined extra virgin oil, hemp balm, and hemp hearts. Can be bought individually or as a package deal for an even more affordable price. 
Our Cocavo skincare range is all-natural blends and uses as little ingredients as possible. Ranging from sunscreens to vapour rub, we've got you covered with our skincare range.
Buying our range of Related Products
If you haven't found our 'Related Products' section yet, but want to check out what goodies we have to offer then don't worry, getting there is super easy.
Firstly, open the menu tab in the top right corner of the page (it looks like three horizontal lines stacked on top of each other) and navigate down the list until you see Related Products (it's below the 'Our Products' title). Click on the Related Products title and you will be taken to the page.
If you are looking for something specific, you can easily type in what you're after in the search bar.
If you are just wanting to peruse through our broad selection of products then scroll through the pages by using the arrows at the bottom of each page to either go forward or backward through the products.
Buying Protein Powder
We sell a range of protein powders of the highest quality in our Related Products section.
Whey protein is one of the most concentrated forms of protein due to its high whey protein composition (>80% whey). It is rapidly digested by the body allowing fast absorption of its nutritional benefits into the bloodstream and muscles. 
Hemp protein powder is a powerhouse! It's a rich source of protein and nutrients that can benefit your health in many ways.
Pea protein is used as an alternative to dairy and soy proteins. It has a neutral taste so is ideal as a source of protein in baking high protein food and smoothies.
Buying Collagen
We sell two types of Collagen Powder in our Related Products section.
Highly purified collagen peptides of bovine origin, which are specifically neutral in taste and odour. It is scientifically proven to slow down age-related muscle loss and changes in body composition. Body Balance B is a pure collagen protein and with extremely low mineral content and is free of fat, cholesterol, carbohydrates, and dietary fibers, and soluble in cold or warm water.
Premium Marine Collagen is an essential protein for the human body and plays a key role in maintaining healthy muscles, bones, and joints. For the best results, add three scoops (15g) of Marsanta Marine Collagen powder daily to your favourite beverage, such as water, juice, coffee, and tea.
Buying Nutritional Vegan-Friendly Powders 
Maca powder is a superfood made from a root vegetable originating in Peru. Considered in local indigenous people's folklore as an aphrodisiac, or libido increaser. Maca health benefits also include reducing erectile dysfunction, boosting energy, and endurance, increasing fertility (in men and women by supporting the endocrine system), improving mood, and reducing blood pressure.
Spirulina was a food source for the Aztecs and other Mesoamericans until the 16th century. Dried spirulina contains about 60% (51-71%) protein. It is also a complete protein, meaning it contains all essential amino acids. Due to this, and it's high iron content, spirulina is often incorporated into vegetarian or vegan diets.
An easy way to add colour, or increase the nutritional value to any meal. Spinach powder is created by grinding dried spinach leaves. It is a fine-textured powder with preserved green color and mild spinach flavor. Green leafy spinach is one of the most nutrient-dense vegetables.
Kale powder is a nutrition supplement that delivers all the benefits of fresh kale leaves in a concentrated form. High in protein and nutrient-dense. Add to any meal for a boost of colour or nutrients.
Buying Nutritious Seeds
Chia seeds are packed with fiber, protein, and healthy fats. The high soluble fiber content of chia seeds helps to feed the friendly bacteria in your gut. 
LSA (Linseed, Sunflower, Almond) is natures superfood. Not only will LSA boost your Omega- 3 intake, but it adds a great texture to your taste buds. Sprinkle over your cereal and yoghurt, or add to baking mixes for a deliciously sweet nutty flavour your whole family will enjoy.
Linseed (also known as flaxseed) is a food and fibre plant grown in cooler regions of the World. Flax seeds come in two basic varieties: 1. brown; and 2. yellow or golden (also known as golden linseeds). They contain high levels of dietary fibre as well as lignans, an abundance of micronutrients and omega-3 fatty acids.
Buying Organic Cacoa
Cacao nibs are smaller fragments of the larger bean. Can be eaten as is, or added to baking, milkshakes, smoothies, or nut mixes. 
Organic cacao powder can be mixed directly as an ingredient into yogurt, smoothies, and dairy based products or added into any desserts.
There are so many healthful, and delicious products just waiting to be experimented with by you.