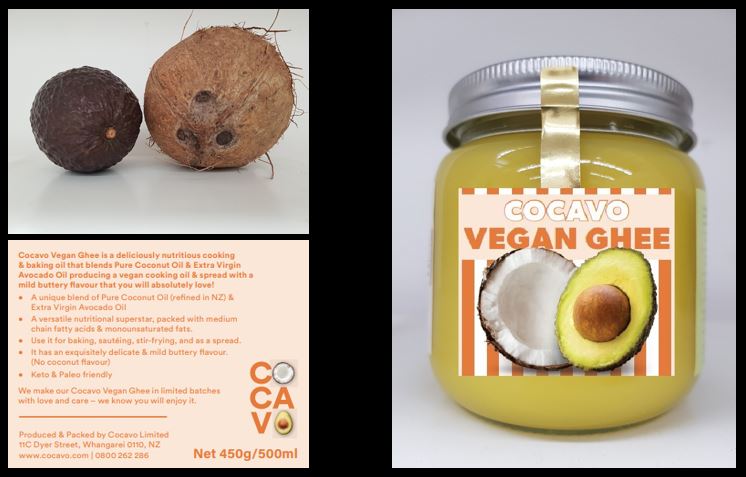 Cocavo Vegan Ghee is a deliciously nutritious cooking & baking oil that blends 2 premium plant based fats to produce a unique cooking oil & spread you'll absolutely love!
Here at Cocavo, we fully support our customers who have chosen a Vegan Lifestyle & who are already enjoying adding health to their meals by using Cocavo Oils.
By monitoring & keeping abreast of consumer trends, developing new ways of championing these 2 super-healthy plant based oils is something we just love doing.
Cocavo Ghee is a mild tasting blend of Pure Coconut oil and Extra Virgin Avocado Oil that highlights the buttery flavour of the avocado oil.
Similar to our flagship oil Cocavo Light, Cocavo Vegan Ghee has a much higher percentage of Extra Virgin Avocado Oil that gives the oil a "softer" texture making it ideal to use as an alternative to spreads like butter & margarine. Best stored in a cool place out of direct light, it can also be kept in the fridge, where it will harden but will have a slightly softer texture than normal coconut oil.
Cocavo Vegan Ghee is a delicious, nutritious natural cooking and baking oil blend that we know you will love. The blend of oils makes Cocavo Vegan Ghee ideal for higher-heat cooking. Use it for baking, sautéing, stir-frying, grilling & BBQing.
Cocavo Vegan Ghee adds a delicate yet rich buttery flavour to foods and recipes without any coconut flavor which makes it an awesome, general purpose cooking & baking oil that will quickly become a pantry staple.
Coconut Oil & Avocado Oil contain natural, healthy, nourishing fats that blend together beautifully, creating a nutritional powerhouse that tastes great.
Coconut Oil is rich in easily digestible medium-chain fatty acids including the sought after Lauric Acid & Avocado Oil is packed with healthy monounsaturated fats & Vitamin E.
Because it is a blend of naturally stable oils, Cocavo Vegan Ghee is shelf-stable and does not need refrigeration to stay fresh. In hot weather it is best refrigerated to prevent it turning to liquid, not that that is a problem. 
COCAVO GHEE – HIGHLIGHTS

. A unique blend of Pure Coconut Oil (refined in NZ) &  Extra Virgin Avocado Oil

A versatile nutritional superstar, rich in medium-chain fatty acids & monounsaturated fats.

Use it for baking, sautéing, stir-frying, and as a spread.

It has an exquisitely delicate & mild buttery flavour.

No coconut flavour at all

Vegan friendly

Keto & Paleo friendly

Packed in Glass Jars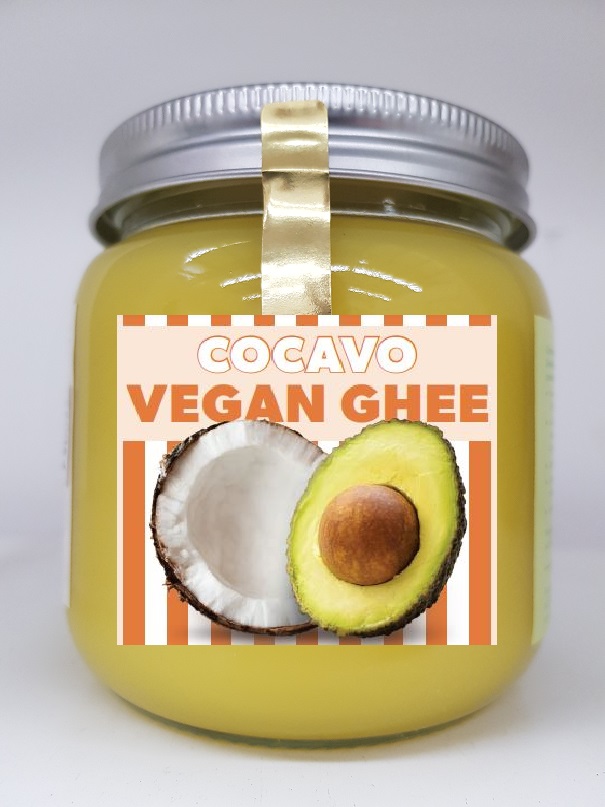 With Coconut Oil & Avocado Oil arguably 2 of the healthiest and most beneficial of plant-based oils on the planet, it made sense that combining them was a no-brainer to produce culinary cooking oil & spread super-star.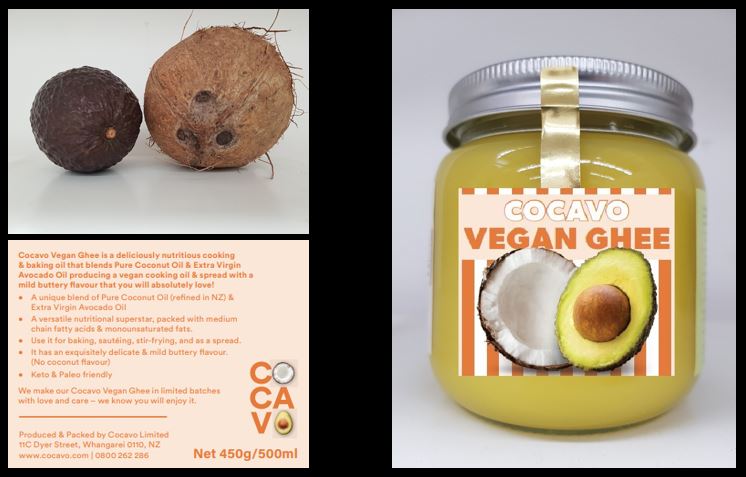 Avocado Oil has a naturally buttery flavour.
Use Cocavo Vegan Ghee for sautéing, grilling, frying your favourite roti or paratha flat breads, cooking vegetables, stir-frying & on the barby.
Cocavo Vegan Ghee makes a great substitute for dairy based spreads like butter and seed oil spreads such as margarines.