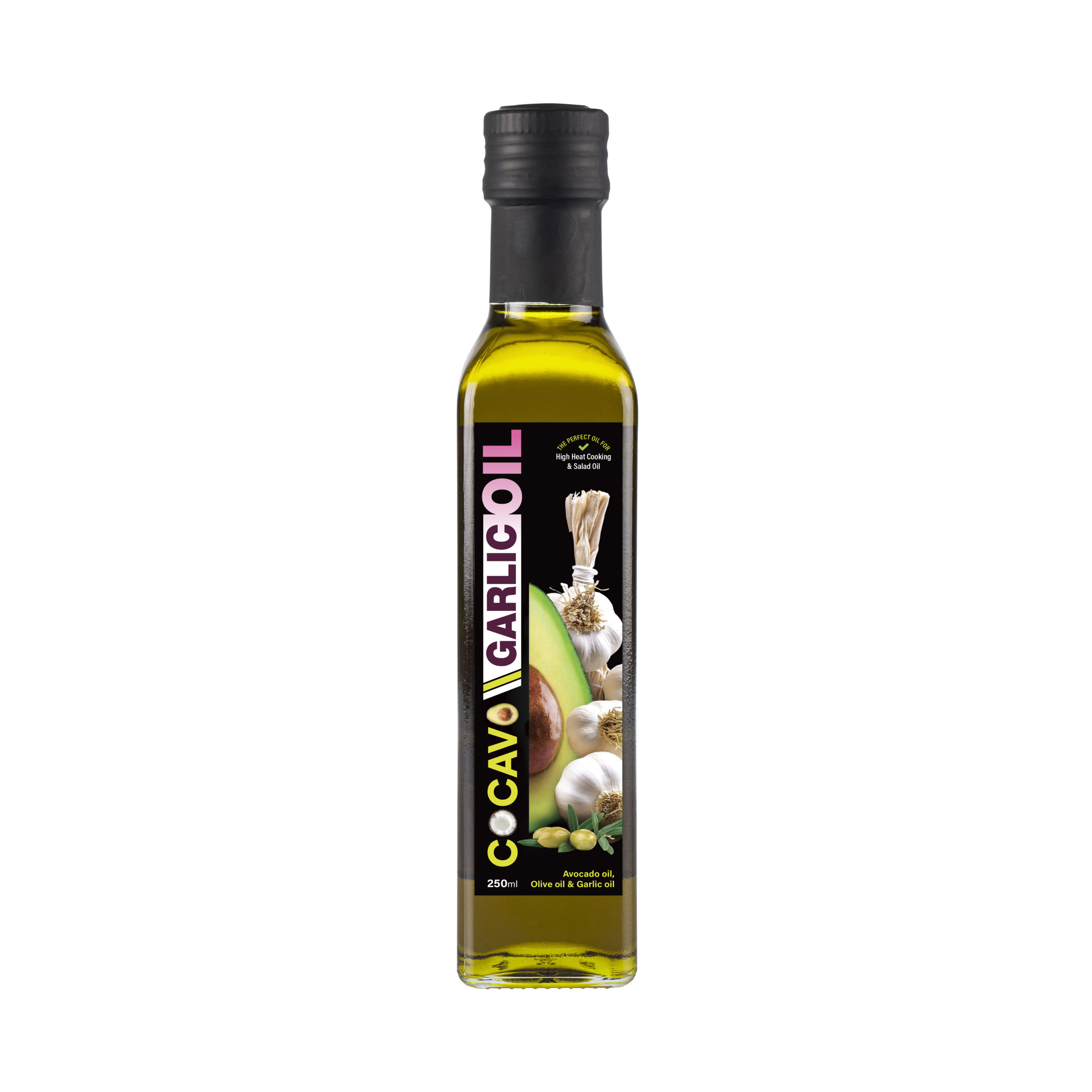 Cocavo GARLIC OIL – Pourable
Cocavo's new pourable Garlic Oil is made using Pure Olive Oil, and Extra Virgin Avocado Oil infused with Natural Garlic Oil giving you the perfect blend for any recipe where the taste & aroma of Garlic is desired.
Cocavo's pourable Garlic Oil compliments dishes and will elevate your food to the next level. The aroma & flavour of Garlic is perfect and will quickly get you & your guests salivating.
Tell me more:
Cocavo pourable Garlic Oil is a combination of 100% pure Olive Oil & cold pressed, extra virgin avocado oil.
Cocavo Garlic Oil offers a combination of health benefits from both olive and avocado oils including high levels of mono-unsaturated fat, vitamin E, plant sterols. With a delicious garlic flavour, Cocavo Garlic Oil also has a high smoke point, making it ideal for high heat cooking and enhancing flavours of dishes.
Many consumers are looking for plant-based alternatives to animal derived fats such as butter, lard & other animal-based fats. This is where Cocavo Garlic Oil certainly fits the bill. A unique blend of 100% plant-based oils that are jam-packed with healthy mono-unsaturated fats and other nutritional goodies.
Cocavo Garlic Oil delivers on flavour & aroma. The health benefits of garlic are well documented so we have not skimped on the garlic component in our oil, so you get what you are paying for, a garlicky oil that also adds more health to your meals.
Cocavo Garlic Oil is currently only available on the Cocavo website shop, so if you have been wanting to try this amazing oil and start adding health to your meals, then jump online and grab a bargain, it is currently on special.
Keto & Vegan Friendly, Cocavo Garlic Oil will quickly become a pantry favourite.
Naturally Gluten Free and Dairy Free, start adding health to your meals with Cocavo Garlic Oil 😊