The tiny size of a teff seed belies its substantial nutritional power. Many of Ethiopia's famed distance runners credit teff for their endurance, and it's long been an important element in the traditional diets on the Horn of Africa, where it's most commonly ground into flour and served as injera, the region's customary flatbread. With the widespread interest in the so-called "ancient grains," defined as unaltered through selective breeding or other genetic modifications, teff is gaining fans in the rest of the world too.
IVORY & BROWN TEFF 
(a.k.a. Lovegrass)
Did you know TEFF  is only available from overseas suppliers in New Zealand? 
Exorbitant pricing starting at $30 + for just 500g puts this super food out of the reach of most families.
WELL NOT ANY MORE.
You can now order White (Ivory) and Brown Teff in pantry friendly packaging (or in bulk on application) 
It will be shipped out of our Whangarei factory warehouse to reach you within  2 to 3 working days
TEFF TRIBE
Fraser McNaul, a fourth-generation farmer grows teff at his family farm, Outback Harvest, near the township of Wakool in the southern Riverina of NSW.
100% Australian grown. Naturally. Free of preservatives.
A true paddock-to-plate product!
Brown and White Teff is a healthy pseudo-grain, a seed that we proudly distribute for the first time in NZ, from TEFF TRIBE
Now you can buy Teff in any form, right here in Whangarei from our factory shop, or from our website shop.
Buy it as:
FLOUR  

for Gluten-free (G/F) baking 

GRAIN/ SEEDS  for G/F cooking ( like rice/ quinoa)

FLAKES for G/F crunchy salads & granola/ cereal

PORRIDGE SACHETS 3 G/F flavours

PANCAKE,

 

Savory or sweet G/F Mix

PASTA, 

G/F Fusilli & Penne

DESSERT,  

G/F Brownie mix
WHY TEFF YOU ASK?
*LOW GI
* HIGH IRON
* DIETARY FIBER 
* FULL OF PROTEIN
* STAY FULLER FOR LONGER
* RICH IN CALCIUM & MAGNESIUM
* LESS FAT THAN QUINOA, OATS & BUCKWHEAT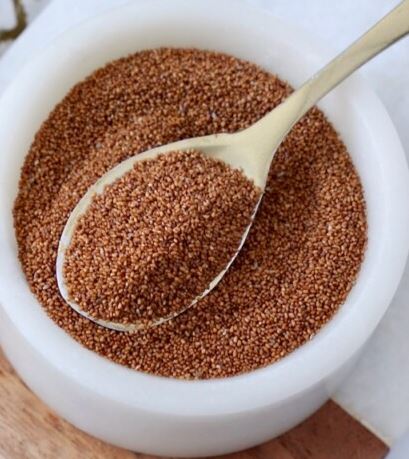 What Does It Taste Like?
Similar to most grains, teff is often described as nutty in flavor. The Teff Company, an Idaho grower, describes it more specifically as similar to hazelnuts, with a hint of chocolate in the darker variety.