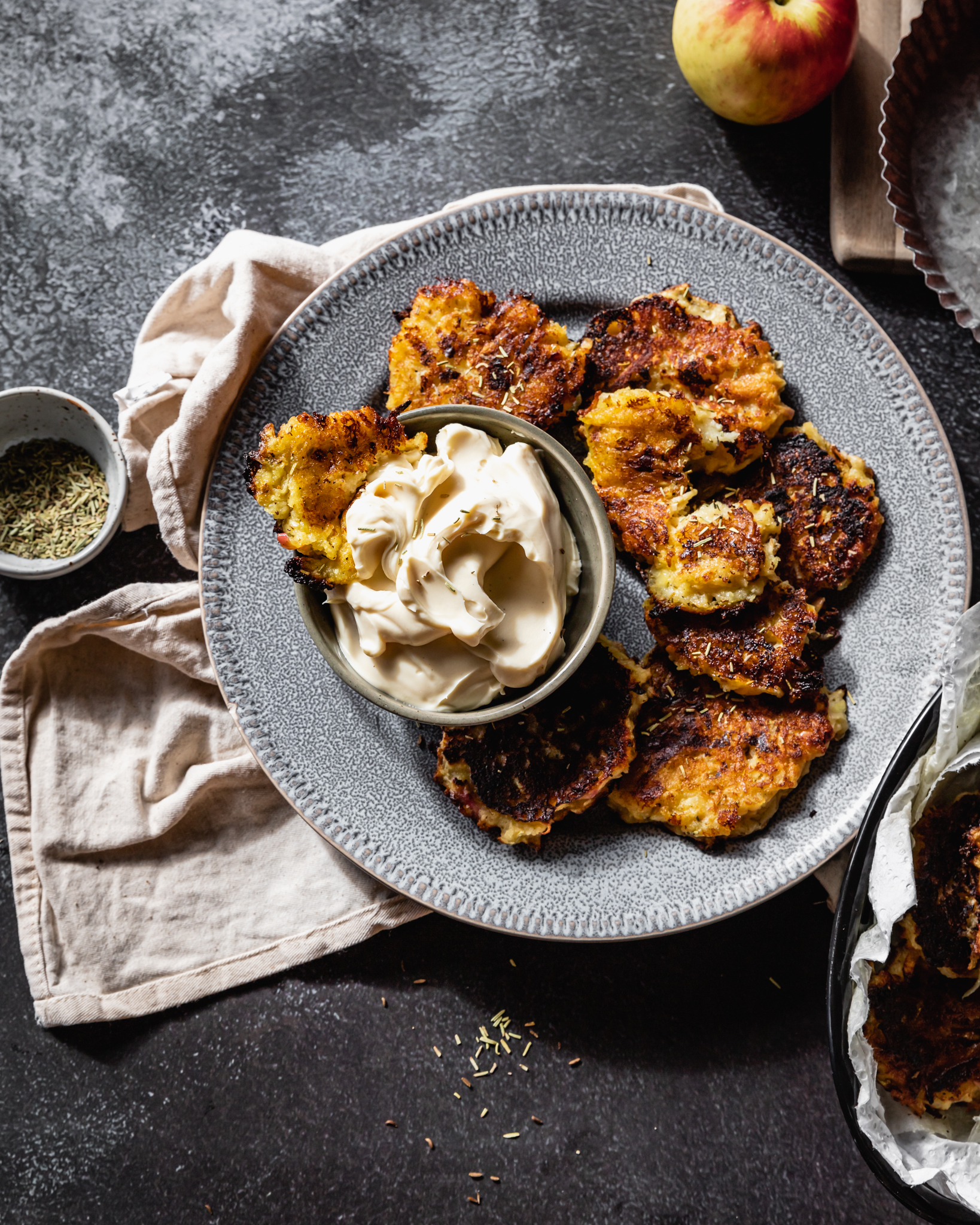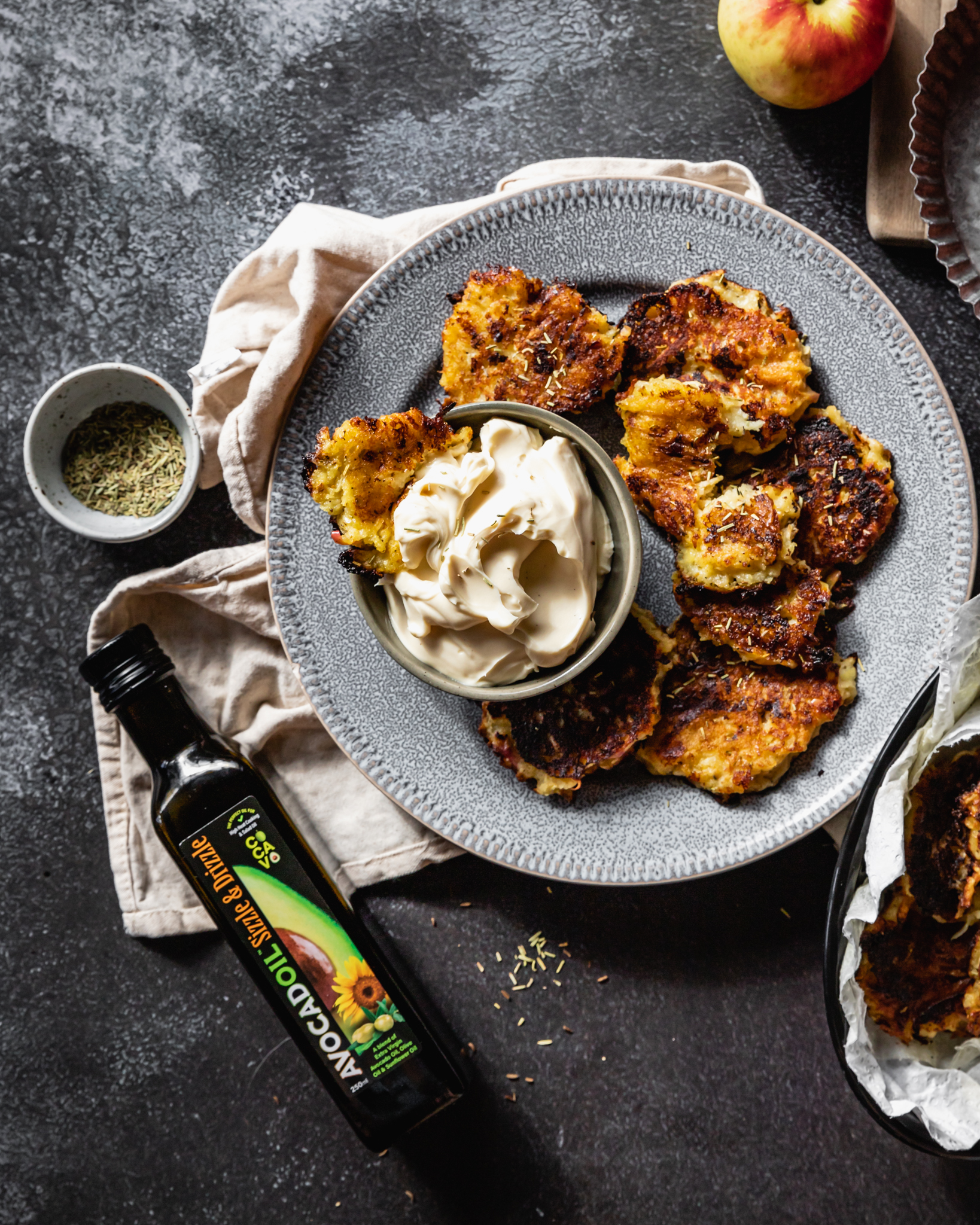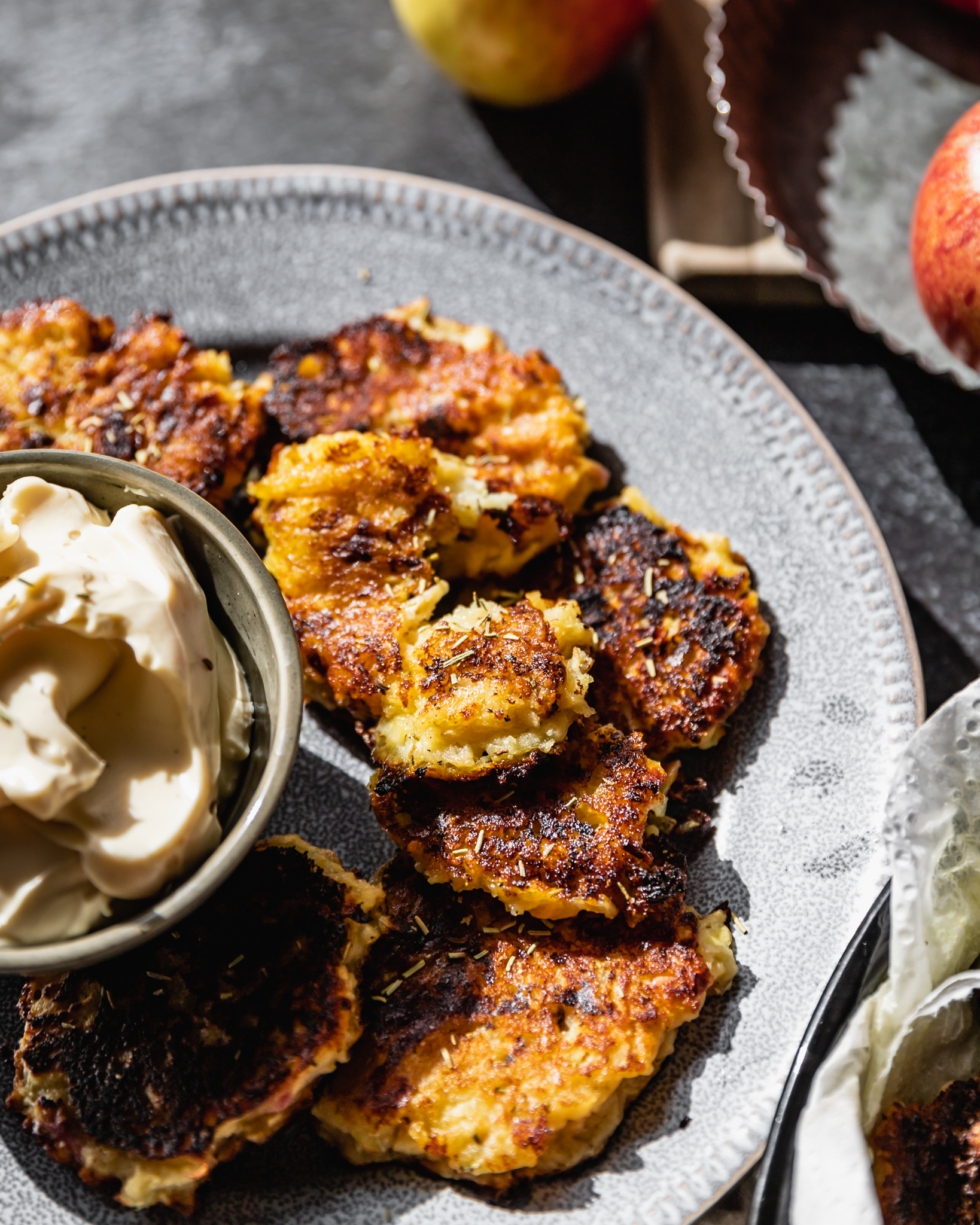 🍎🧀Fried Apple Cheddar Fritters with Rosemary and Caraway Seeds. Powerful sentence.
These fritters are crispy on the outside and gooey on the inside, dotted with the sharpness of rosemary and the sweetness of apple. They're reminiscent of the old favourite cheese and apple toasties (if you don't know what I'm talking about you're missing out), but packed full of flavour and goodness.
They're gluten free, vegan and fried in Cocavo's awesome cooking oil blend called Sizzle & Drizzle Oil (also sold as Hot Wok) – an oil designed to handle high heat cooking – perfect for shallow-frying these fritters in! The oil has a rich nutty flavour and is perfect as a drizzling oil also.
"

These fritters are crispy on the outside and gooey on the inside

 "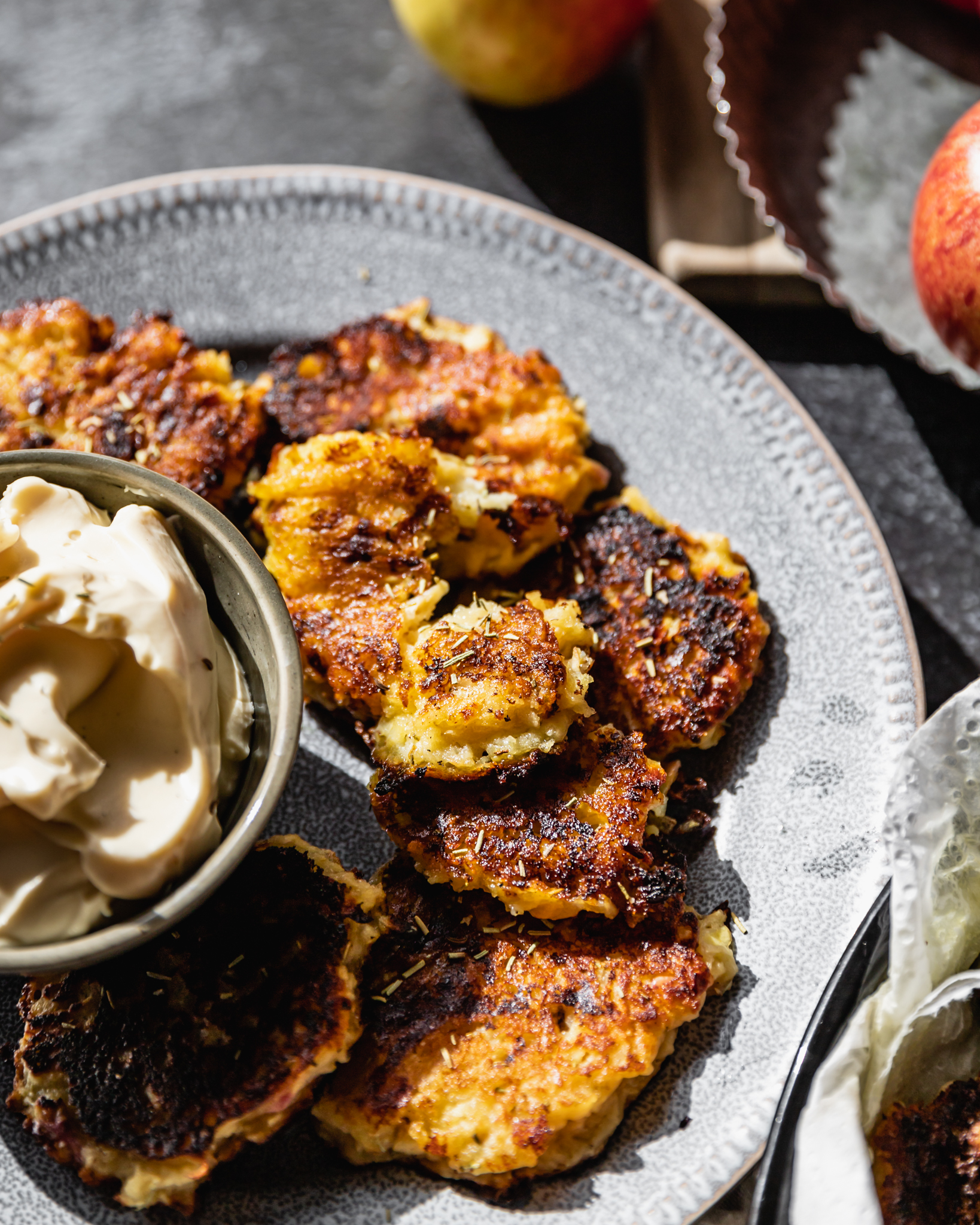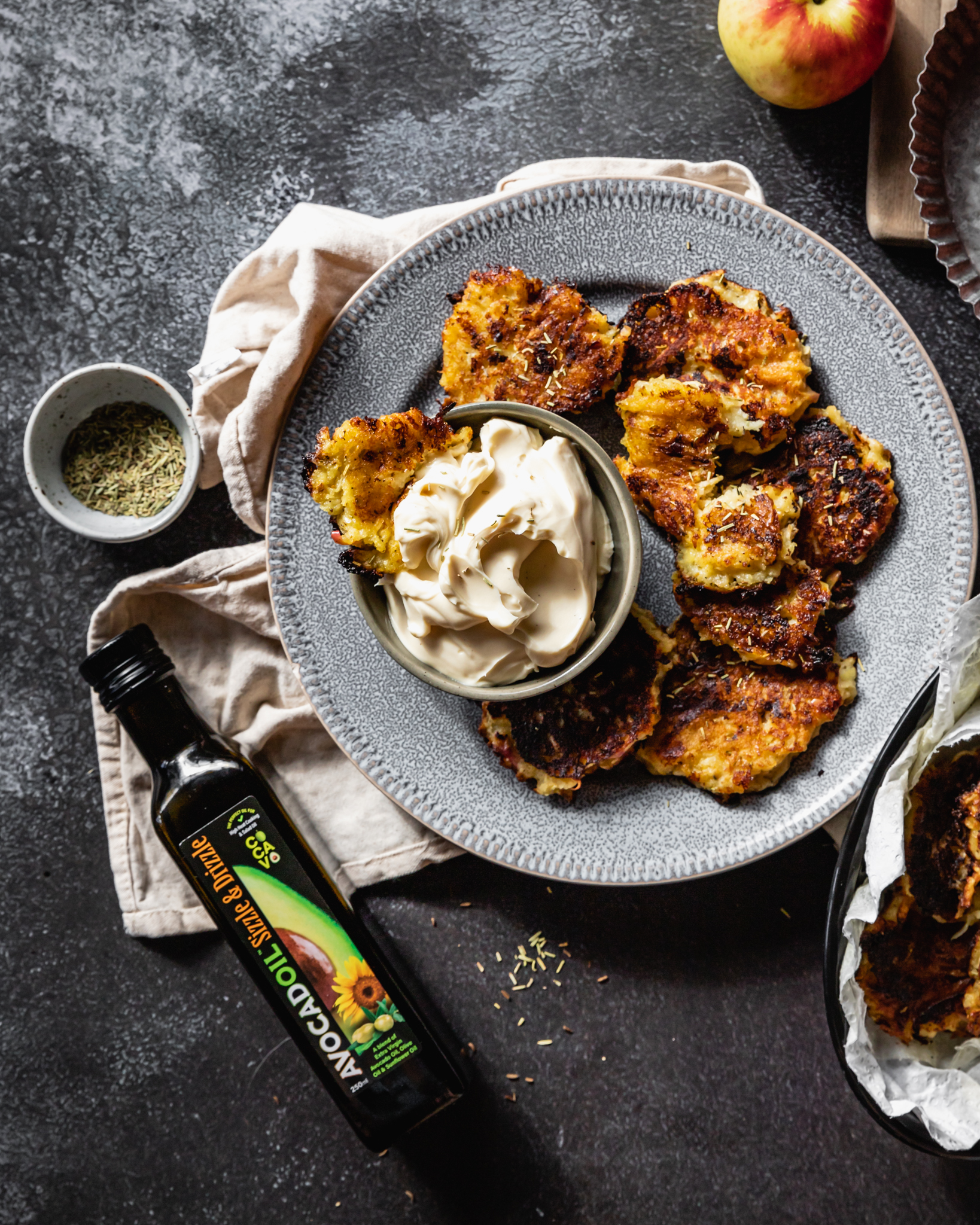 🍎🧀SIZZLE & DRIZZLE FRIED APPLE CHEDDAR FRITTERS WITH ROSEMARY AND CARAWAY SEEDS🧀🍎

Serves 4 as a side – Here's the Ingredients:

3 apples (450g), grated
1/2 cup + 2 tbsp rice flour
1/4 cup almond meal
2 tbsp cornflour
1 tsp dried rosemary
1 tsp baking powder
1/2 tsp salt
1/4 tsp caraway seeds
1/2 cup grated cheddar
Cocavo Sizzle and Drizzle Oil
.
1. Combine all ingredients in a large bowl – don't get rid of the juice from the apples. Mix to form a batter.
2. In a large skillet or frying pan, heat 1-2cm Sizzle and Drizzle Oil over high heat until hot.
3. Add 2 tbsp batter per fritter (the oil should bubble up immediately), flatten gently and cook for 3-5 minutes, flipping when well browned and crisp. Don't overcrowd the pan – you will need to fry the fritters in 2-3 batches. Drain cooked fritters on paper towels and keep warm while you cook the rest.
4. Serve hot, with sour cream and a sprinkle of rosemary and caraway seeds.