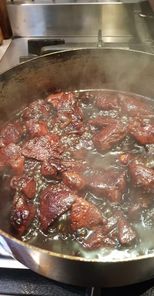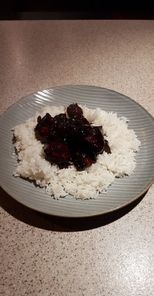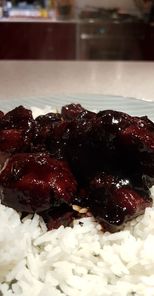 This Honey Soy slow braised Pork dish is a stunner.
Honey Soy is a fairly classic blend used in Chinese cuisine. The sweetness of the honey offsets the saltiness of the Soy Sauce that results in a well balanced, tasty dish. This dish will quickly become a family favourite, and any left overs (if there is any) will quickly be snapped up by someone the next day for lunch. 
The pork can be substituted with Chicken, Fish, Seafood or Tofu – the sauce is the hero in this recipe.
This recipe uses Cocavo Sizzle & Drizzle or Hot Wok Oil to brown the meat giving it a lovely caramelised appearance that adds to the flavour of the finished dish. For super tender pork, marinate for 24 hours in soy sauce, Cocavo Sesame Oil and a splash of Chinese Cooking Wine. 
" Honey Soy Pork is 

 Sticky  Deliciousness

 "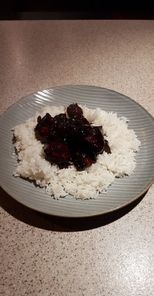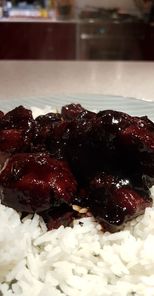 Ingredients:
1Kg Pork cut into 1-inch cubes
1 white onion cut into quarters
Cocavo Sizzle & Drizzle Oil or Cocavo Hot Wok Oil
1 Tbsp Cocavo Roasted Sesame Oil
¼ cup Runny Honey
¼ cup Dark Soy Sauce 
¼ cup Chinese Cooking Wine
1 Tbs of Oyster Sauce – optional
½ tsp garlic powder – use fresh if you want
½ tsp ginger powder – use fresh if you want
Garnish with sliced spring onion or anything else that takes your fancy
Season with Pepper if required. No additional salt is necessary.
Method:
In a frying pan, heat the Sizzle & drizzle or Hot Wok oil then brown the pork pieces, then remove.
In the same frying pan, heat a little more Cocavo Sizzle & Drizzle oil then add the chopped onion, ginger, garlic, and fry for a minute or 2.
Add all the other wet ingredients and bring to the simmer. Do a taste test and adjust saltiness if required with more honey.
Continue to simmer for a few minutes then tip in the browned pork pieces or any meat or protein you like (chicken, fish, shellfish, tofu etc.)
Allow to cook for a further 5 – 10 minutes or until the meat is cooked through.
Serve on steamed rice or with noodles with a side of steamed Asian Greens.