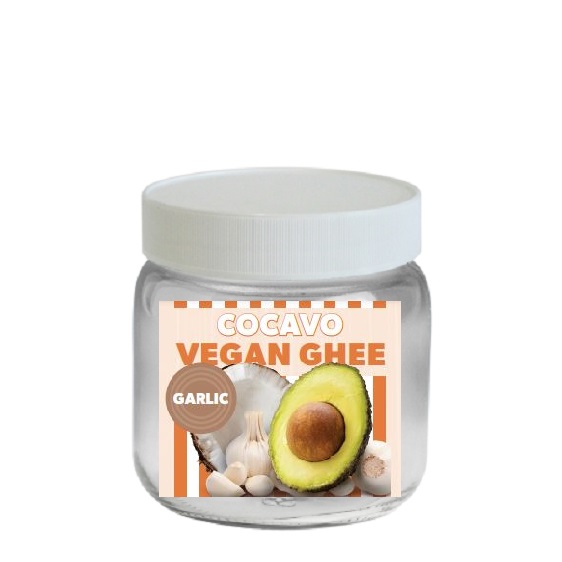 Cocavo Vegan Garlic Ghee is a deliciously nutritious cooking oil that blends 2 premium plant based fats & natural Garlic Oil to produce a unique cooking oil you'll absolutely love!
Here at Cocavo, we fully support our customers who have chosen a Vegan Lifestyle & who are already enjoying adding health to their meals by using Cocavo Oils.
By monitoring & keeping abreast of consumer trends, developing new ways of championing these 2 super-healthy plant based oils is something we just love doing.
Cocavo Vegan Garlic Ghee is a delicious garlicy blend of Pure Coconut oil, Extra Virgin Avocado Oil & natural Garlic Oil that highlights the garlicy buttery flavour of the avocado oil.
Similar to our flagship oil Cocavo Light, Cocavo Vegan Garlic Ghee has a much higher percentage of Extra Virgin Avocado Oil that gives the oil a "softer" texture making it ideal to use as an alternative to spreads like butter & margarine. Best stored in a cool place out of direct light, it can also be kept in the fridge, where it will harden but will have a slightly softer texture than normal coconut oil.
Cocavo Vegan Garlic Ghee is a delicious, nutritious natural cooking oil blend that we know you will love. The blend of oils makes Cocavo Vegan Garlic Ghee ideal for higher-heat cooking. Use it for sautéing, stir-frying, grilling & BBQing. Also makes the best Garlic Bread you will ever try!
Cocavo Vegan Garlic Ghee adds a punch of rich buttery garlic flavour to foods and recipes without any coconut flavor which makes it an awesome, general purpose cooking oil where a garlic flavour is desired that will quickly become a pantry staple.
Coconut Oil & Avocado Oil contain natural, healthy, nourishing fats that blend together beautifully, creating a nutritional powerhouse that tastes great. Garlic has been used for centuries for it's medicinal properties and of course it's amazing flavour & aroma.
Coconut Oil is rich in easily digestible medium-chain fatty acids including the sought after Lauric Acid & Avocado Oil is packed with healthy monounsaturated fats & Vitamin E.
Because it is a blend of naturally stable oils, Cocavo Vegan Garlic Ghee is shelf-stable and does not need refrigeration to stay fresh. In hot weather it is best refrigerated to prevent it turning to liquid, not that that is a problem. 
COCAVO VEGAN GARLIC GHEE – HIGHLIGHTS

. A unique blend of Pure Coconut Oil (refined in NZ), Extra Virgin Avocado Oil & natural Garlic Oil.

A versatile nutritional superstar, rich in medium-chain fatty acids & monounsaturated fats.

Use it for sautéing, stir-frying, and as a spread. Makes amazing Garlic Bread.

It has an exquisitely delicious buttery garlic flavour.

No coconut flavour at all

Vegan friendly

Keto & Paleo friendly

Packed in Glass Jars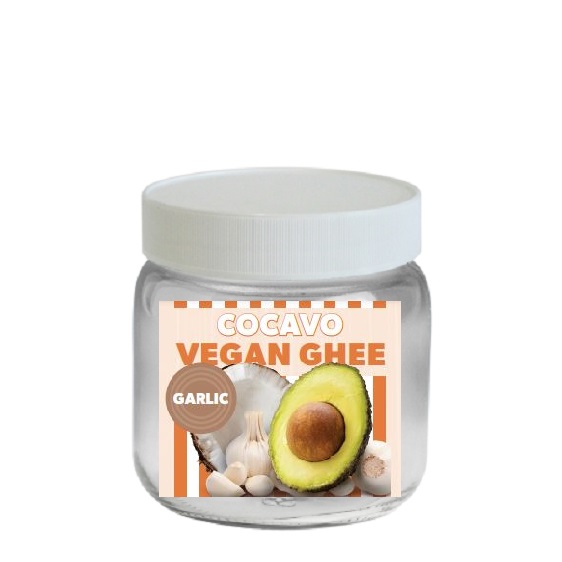 With Coconut Oil & Avocado Oil arguably 2 of the healthiest and most beneficial of plant-based oils on the planet, it made sense that combining them was a no-brainer to produce culinary cooking oil & spread super-star.
Avocado Oil has a naturally buttery flavour.
Use Cocavo Vegan Ghee for sautéing, grilling, frying your favourite roti or paratha flat breads, cooking vegetables, stir-frying & on the barby.
Cocavo Vegan Ghee makes a great substitute for dairy based spreads like butter and seed oil spreads such as margarines.