Coc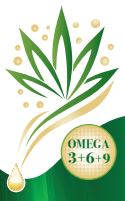 avo is pleased to advise our Organic Hemp Seed Oil is now available in a variety of bulk packaging options at very good prices. Choose from our  2lt, 5lt, 15lt or 20lt packaging options and save money.
Cocavo Organic Hemp Seed Oil is natural, cold pressed & unrefined  in a way that maintains the nutritional properties and quality of nature's most unsaturated oil. Pressed from the hearts of the Hemp Seed, this Oil is a lovely golden colour that has a delicious, delicate nutty flavour.
Omega Fatty Acids:
Hemp Seed Oil is unique as it contains omega-6 and omega-3 in the optimal 3:1 ratio. This is necessary for human health, as we need to receive the omegas in this ratio or else our bodies cannot absorb them. For optimal health we require a 3:1 ratio, as large imbalances lead to health issues such as inflammation and obesity.

Hemp oil features the superior form of omega-3, SDA (stearidonic acid) which converts to EPA efficiently in your body. Hemp Seed Oil is also a great source of Omega-9. For most people, a tablespoon of hemp seed oil can satisfy their daily EPA and DHA requirements.

EPA (eicosapentaenoic acid) and DHA (docosahexaenoic acid) are long-chain omega-3 polyunsaturated fatty acids (O-3s). The body needs EPA & DHA omega-3s to develop and function optimally in every stage of life.

The omega-3 found inside hemp is a much more stable form and will not oxidise like that found in other oils such as fish oil.

For more information visit –  https://www.nutraingredients-asia.com/Article/2014/11/21/Will-hemp-replace-fish-as-the-king-of-omega-3#
Other Vitamins, Nutrients & Minerals
When you receive your healthy fats from a plant-based omega source you also benefit from other nutrients, minerals, and terpenes not found in oils like fish oil.

Hemp Seed Oil is packed with vitamins and minerals, containing very low amounts of saturated fats but with very high levels of essential fatty acids.

Plant-based oils are loaded with phenols and antioxidants, which help with the reduction of free radicals, contributing to a more youthful and naturally healthy body and skin.

For more information visit – https://www.medicalnewstoday.com/articles/324450#takeaway-and-future-research
Environment & Sustainability
Hemp Seed Oil is very sustainable and contributes significantly to our natural environment by promoting regeneration of the soil, stopping erosion and reducing greenhouse emissions.

Hemp is known as a 'miracle' crop. It helps to structure soil and can be used to regenerate land between food crops; it is thought to be four times more effective at capturing CO2 than trees; it doesn't need pesticides or herbicides, providing habitat for wildlife – birds love to eat the seeds.
Bi-products of Hemp Seed Oil production are utilised to make further food products such as Hemp flour or Hemp protein powder.
More good Hemp things:
Hemp Seed Oil is plant-based so suitable for people following Vegan lifestyles. It is also a perfect oil to consume on Keto & HFLC diets.

Hemp Seed Oil has a mild nutty flavour with no aftertaste. Perfect for drizzling over salads or adding to smoothies.

A strong advantage of Hemp Seed Oil over other oils is that you can apply it directly to your skin, as it's clinically proven to help with eczema and dermatitis and other skin conditions. It's easily absorbed, and it doesn't smell.

Hemp seed oil is cold-pressed and raw maintaining the integrity of it's nutritional profile.

Hemp Seed Oil is a true nutritional power-house that will add health to your meals & diet.
Check out our great deals on bulk Hemp Seed Oil here: https://cocavo.co.nz/?s=hemp+seed+oil&post_type=product