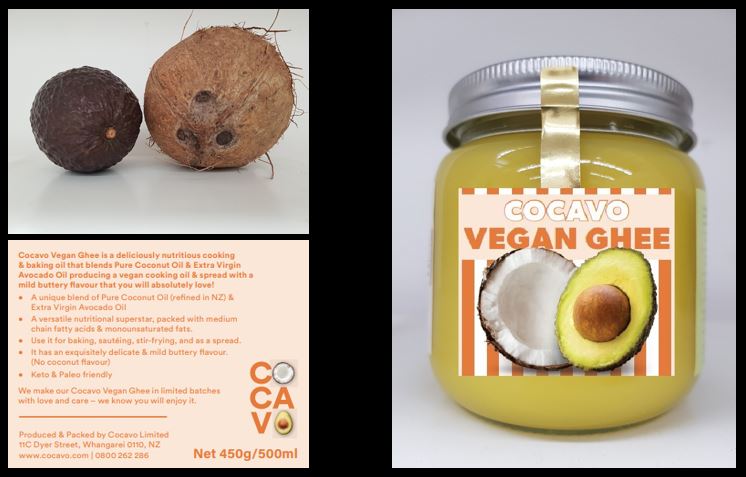 Question:
Why blend Extra Virgin Avocado Oil with Coconut Oil?
Answer:
Simple, the resulting oil is jam packed with all the healthy fats found individually in these oils.  While these 2 oils are stars in their own right, bring them together and you have a marriage of healthy fats made in heaven.
Cocavo Vegan Ghee is a fantastic cooking oil and here at Cocavo we love it. We also love Coconut Oil & Extra Virgin Avocado Oil in their own right, so we got to thinking, why not develop a blend of these 2 super-oils to create one fantastic cooking oil that contains the cooking & health properties of these 2 fats in a single product.
Our product development team started trying different ratios of coconut oil to avocado oil. We wanted to hero both oils as they deserved. We also wanted the resulting blend to have a soft texture suitable to be used as a spread in addition to being a cooking oil. The blend ratio achieved this with the resulting Vegan Ghee being spreadable from the fridge.
We sent samples to 3 chefs we engaged to trial the blend. The feedback they gave us ticked off 5 important properties we wanted to achieve:
Flavour – tick – mildly buttery which comes from the avocado oil.
Health – tick – adds more health to meals.
Cooking Properties – tick – suitable for high heat cooking & baking. Use in place of butter 1 : 1
Smoke-point – tick – high smoke point so great for BBQ, grilling, Wok cooking.
Texture – tick – smooth & soft, so great to use as a spread.
COCAVO VEGAN GHEE – HIGHLIGHTS

. A unique blend of Pure Coconut Oil (refined in NZ) &  Extra Virgin Avocado Oil

A versatile nutritional superstar, rich in medium-chain fatty acids & monounsaturated fats.

Use it for baking, sautéing, stir-frying, and as a spread.

It has an exquisitely delicate & mild buttery flavour.

No coconut flavour at all

Vegan friendly

Keto & Paleo friendly

Packed in Glass Jars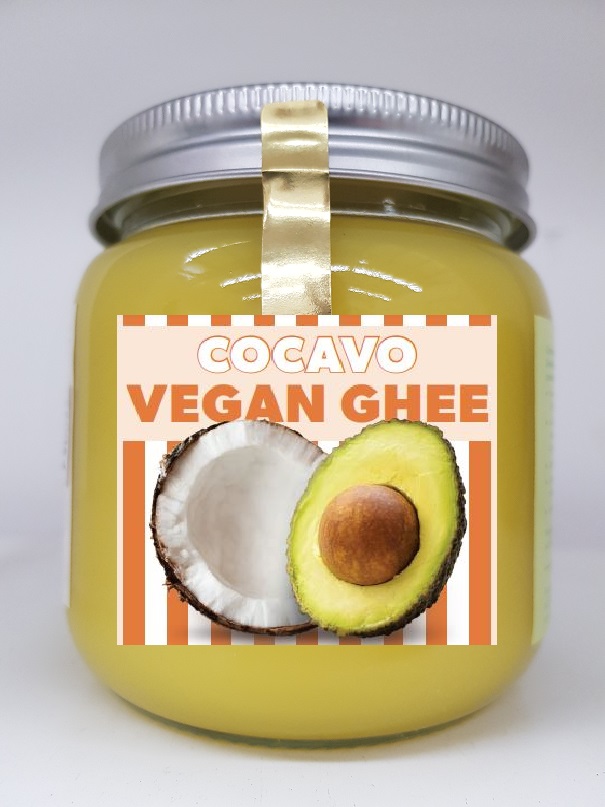 With Coconut Oil & Avocado Oil arguably 2 of the healthiest and most beneficial of plant-based oils on the planet, it made sense that combining them was a no-brainer to produce culinary cooking oil & spread super-star.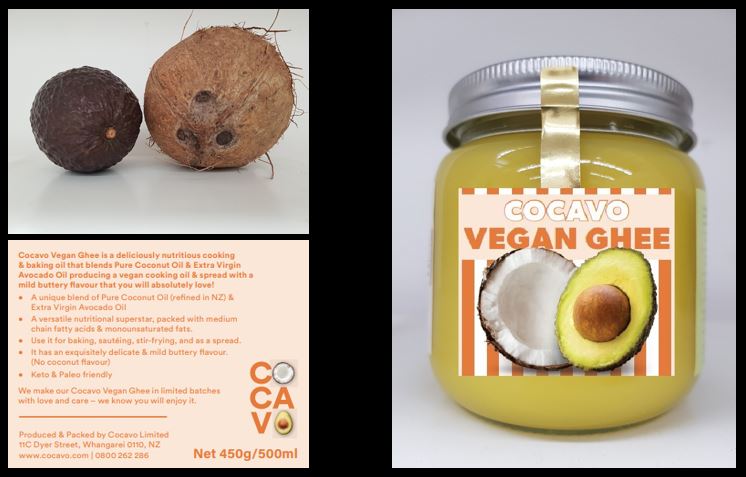 Avocado Oil has a naturally buttery flavour.
Use Cocavo Vegan Ghee for sautéing, grilling, frying your favourite roti or paratha flat breads, cooking vegetables, stir-frying & on the barby.
Cocavo Vegan Ghee makes a great substitute for dairy based spreads like butter and seed oil spreads such as margarines.