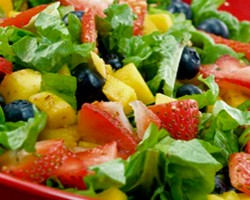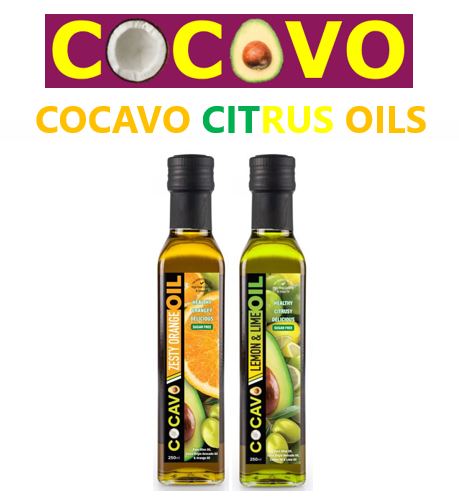 Vegetable & Fruit Salad with Cocavo Citrus Oils
Cocavo's Citrus Oils are the perfect "sugar free" dressing for salads and other recipes.
This delicious vegetable fruit salad is taken to the next level when one of our citrus oils are used as a dressing. Whether you opt for our Orange Zest Oil or our Lemon & Lime Oil, you will not be disappointed.
Ingredients:
12 x leaves of finely chopped cabbage 

1 x medium Red Onion (Thinly sliced into rings) 

1 x medium Cucumber (Sliced in to rings) 

1 x medium Carrot (Peeled and Grated) 

2 – 3  x Radishes (Peeled and Thinly Sliced) 

1 x Banana (Sliced into rings) 

6 x Strawberries (Sliced)

Handful of green or red grapes 

1 x Apple (Thinly sliced into rings) 

1  x Tomato (Thinly sliced into rings) 

Cocavo Citrus Oil of your choice – 2 tbsp

Salt to taste
You can substitute any of the fruits with what ever is in season – try pineapple, mango or pomegranate seeds. A sprinkle of pumpkin or pine seeds and nuts will also add more health and texture.
Instructions:
In a big bowl, add cabbage leaves, onion, cucumber, carrot, radish, banana, strawberries, grapes, apple and tomato.

Sprinkle with a little salt & mix well.

Drizzle with Cocavo Citrus Oil of your choice and toss well.

Serve immediately
Many consumers are looking for plant-based alternatives to animal derived fats such as butter, lard & other animal-based fats. This is where Cocavo Citrus Oils certainly fit the bill. A unique blend of 100% plant-based oils that are jam-packed with healthy mono-unsaturated fats and other nutritional goodies.
Cocavo Citrus Oils are currently only available on the Cocavo website shop, so if you have been wanting to try these amazing oils and start adding health to your meals, then jump online and grab a bottle of each.
Keto & Vegan Friendly, Cocavo Citrus Oils will quickly become a pantry favourites.
Naturally Gluten Free and Dairy Free, start adding health to your meals with Cocavo Citrus Oils 😊